Ghoul

Classificaiton

Undead

Rarity

Rare

Abilities

Advanced Strength

Weaknesses

None

Infectious

Yes

P.U.F.F.

$20,000
The P.U.F.F. on a ghoul is $20,000.
Originating in Arabian folklore the ghoul (derived from the Arabic غول ghūl, from غال ghala which means "to seize") In ancient Arabian folklore, the ghūl dwells in burial grounds and other uninhabited places. The ghul is a fiendish type of jinn (more commonly refered to as genies) believed to be sired by Iblis.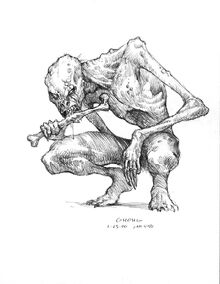 (The Islamic equivelent to the Christian Satan) A ghoul is also a desert-dwelling, shapeshifting demon that can assume the guise of an animal, especially a hyena. It lures unwary people into the desert wastes or abandoned places to slay and devour them. The creature also preys on young children, drinks blood, steals coins, and eats the dead, then takes the form of the person most recently eaten.
Ghouls are generally undead humans with rotting or decaying flesh and possible past traumatic injuries, such as missing limbs, broken/exposed bone and/or tissue damage. Usually depicted as gaunt, wiry figures they have unnatural strength and agility and can easily overpower most humans.
Feeding and Infecting
Edit
Ghouls feed on anything from living tissue to decayed bones, normally depicted as carrion eaters and graverobbers, but will attack live prey viciously. Their bite is infectious and is the main attack in their arsenal along with razor-sharp claws.
Behavior, Habitat and Society
Edit
Ghouls tend to wander alone or in small packs and can usually be found in cemetaries or on fields of battle, feeding on the dead. Their preferred climate is a hot, dry desert but they can be found almost anywhere.
Abilities and Weaknesses
Edit
Ravenous Hunger
Infectious Bite
Razor Claws
Unnatural Strength
Unnatural Stamina
Unnatural Agility
Extreme Endurance
Ghouls can usually be killed by decapitation/severe head trauma, fire, acid or dismemberment.